Luostarinmäki Adventure is a tablet application that takes a visitor of the Luostarinmäki Handicrafts Museum in the middle of the 1850's daily life in Turku. The adventure uses augmented reality technologies to bring people from old times virtually into the streets and courtyards of the museum. The visitor is engaged into the arrangements of a wedding in one Saturday in the summer of 1855. He or she takes the role of a cousin of the 17-year old bride, Hilda, bringing the wedding crown of the family for the bride, and then being asked for help in making arrangements for the wedding that will take place the following day.
The visitor will discuss with locals, do tasks and eventually even try to solve a mystery of the stolen wedding ring. The adventure happens on the screen of a tablet computer, but also on the streets of the museum where virtual people and objects will guide the user through the story.
The adventure was built in the Futuristic History project in co-operation with the museum personnel and the project researchers. The story was originally written by history students in the University of Turku, and further refined for the application by the project team. The application is built on the Unity game engine, and ALVAR augmented reality software library by VTT is used as the tracking engine that is needed to place the virtual characters in the correct locations in the real environment.
The adventure takes place in the Luostarinmäki district, which was the only larger part surviving the great fire that destroyed central Turku in 1827. In those days Luostarinmäki consisted mainly of the modest dwellings of workers and craftsmen built between 1785 and 1803. During rebuilding of the city the area became crowded and it was never really renovated. In the first half of the 20th century the cultural historic value of the area was recognized and the buildings were conserved. The Luostarinmäki Handicrafts museum was opened there in 1940.
The Luostarinmäki adventure application is not available in public. For more information, please contact the project personnel mentioned at the bottom of the page.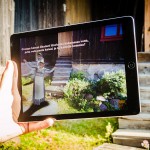 Press material
A high quality version of the video is available upon request.
Ask more