Sustainability and Transparency in Shipbuilding Networks
Phase I: 01.02.2016 – 28.02.2017
Phase II: 10.03.2016 – 30.06.2019
Tekes
Budget UTU: 800 000€

Completed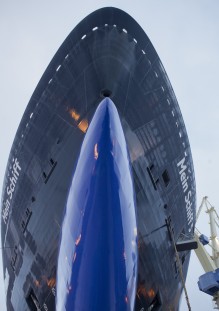 Shipping companies need to utilize the broader concept of sustainability in order to communicate a change in the way they are thinking. To achieve this, the shipyard as a system integrator and its subcontracting network have to cover a more significant part of the value chain with sustainability and transparency. In this project, we study the possibilities of enlarging the scope of sustainability from ships operations to the whole life cycle and how this broader approach can be communicated efficiently to the customer.
Sustainability and Transparency in Shipbuilding Networks SUSTIS project focus on collecting, combining and utilization of sustainability information of materials and manufacturing processes for creating sustainability based value in shipbuilding. The goal is to 1) expand the use of sustainability arguments in shipbuilding business from operational use to the whole life-cycle starting from raw materials and working conditions and 2) generate new business through opening the sustainability data.
SUSTIS is a research project coordinated by the University of Turku (Department of Future Technologies). The research partners include three units in the University of Turku (Future Technologies, Centre for Collaborative Research, Finland Futures Research Centre) and VTT Technical Research Centre of Finland. Several industry partners have their parallel projects linked to the research project.
The research project was conducted in two phases. Phase I, linked with a parallel project by Meyer Turku Oy, focused on identifying relevant sustainability indicators, their transfer, and utilization. The main result of the Phase I was the validation of sustainability's business value in the shipbuilding network and, ultimately, for the cruising business. In Phase II, the research scope widened, explored more methods and solutions for data transfer. Utilization of the transferred sustainability data was covered by creating and testing various pilot applications. Phase II promoted dialogue around the utilization of sustainability arguments and data for increased economic resilience of the shipbuilding network. For making sustainability issues transparent and widely utilizable, a pilot platform for sustainability data was created. Phase II also included quantification of the data with sustainability modeling as well as exploring the new business possibilities provided by the open-sustainability data.
Research Partners
Industry and Supporting Partners
Press Material
O. Apostol, M. Mäkelä, K. Heikkilä, M. Höyssä, H. Kalliomäki, L. Jokinen and J. SaarniTriggering sustainability communication in a B2B context: combining action research and sensemakingAccounting, Auditing & Accountability Journal, Vol. 34 No. 4, pp. 849-8762021

[paper]

Kaisa Könnölä, Karri Kangas, Kaapo Seppälä, Marileena Mäkelä, Teijo LehtonenConsidering sustainability in cruise vessel design and construction based on existing sustainability certification systemsJournal of Cleaner Production, Volume 259, 2020, 120763, ISSN 0959-65262020

[paper]

Jouni Saarni, Katariina Heikkilä, Helka Kalliomäki, Marileena Mäkelä, Leena Jokinen, Oana ApostolSustainability in Shipbuilding – Observations from Project-Oriented Supply Network in Cruise Ship ConstructionFFRC eBOOK 5/2019. Finland Futures Research Centre, University of Turku2019

[paper]

Oana Apostol, Maria Höyssä, Helka Kalliomäki, Leena Jokinen, Marileena MäkeläInternal discursive effects on corporate decision to externally communicate sustainabilityNordic Accounting Conference 2018. Copenhagen Business School2018

Marileena Mäkelä, Oana Apostol, Katariina HeikkiläChapter 6: Pride and fear: Emotions in sustainabilityIn: Bernabé Escobar-Pérez, Maria del Mar Miras-Rodríguez (eds.) Corporate social responsibility: Challenges in diversity, accountability and sustainability. Management Science - Theory and Applications. Nova Science Publishers, New York. pp. 121-1472018

Marileena Mäkelä, Oana Apostol, Helka Kalliomäki, Leena Jokinen, Katariina Heikkilä, Jouni SaarniCollaborative sustainability in a shipbuilding networkCorporate Responsibility Research Conference CRRC 2018. University of Leeds, Kedge Business SchoolSeptember 10-12, 2018

Kaisa Könnöla, Tuomas Mäkilä, Kaapo Seppälä and Teijo LehtonenMotivational Game Design and Pro-Environmental Elements in Sustainability ApplicationsGameON 2018, Dundee, Scotland, United KingdomSeptember 18-20, 2018

[paper]

Katariina HeikkiläPerspectives to Sustainability in the Shipbuilding Network. Interview Results of the SUSTIS ProjectFFRC eBOOK 9/2016. Finland Futures Research Centre, University of Turku2016

[paper]

Oana ApostolSustainability Best Practices. Benchmarking Results of the SUSTIS ProjectFFRC eBOOK 10/2016. Finland Futures Research Centre, University of Turku2016

[paper]
Ask more