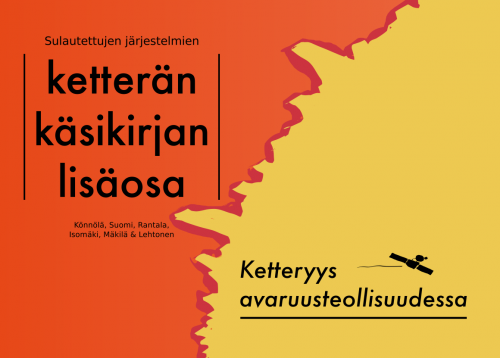 Written in Finnish, Ketteryys avaruusteollisuudessa (An extension to agile handbook for embedded systems development: Agile development for space industry) describes the characteristics of space industry, the challenges and solutions of agile development in space development projects and how agile development can be utilized in space industry. The extension was written based on the research in AgiSpacES project.
The extension can be downloaded from Doria:
Sulautettujen järjestelmien ketterään käsikirjaan AgiSpacES-hankkeessa kirjoitettu lisäosa Ketteryys avaruusteollisuudessa valottaa ketterien menetelmien käyttöä avaruusteollisuuden hankkeissa. Ennalta määritellyt spesifikaatiot, tiukat laatuvaatimukset ja hajautettu järjestelmäkehitys luovat haasteita ketteryyden hyödyntämiseen perinteisillä tavoilla. Julkaisussa kerrotaan esimerkkien kautta, miten ketteryyttä voidaan onnistuneesti hyödyntää tällaisissa hankkeissa. Tämä julkaisu on lisäosa Sulautettujen järjestelmien ketterälle käsikirjalle. Käsikirja kertoo, mitä ketterät menetelmät ovat ja miten niitä sovelletaan sulautettuja järjestelmiä rakennettaessa. Julkaisu täydentää alkuperäistä käsikirjaa.
Ask more