An augmented reality experience located in the Häme Castle, Hämeenlinna. Designed as a museum guide experience describing the changes in one of the castle's halls during past centuries.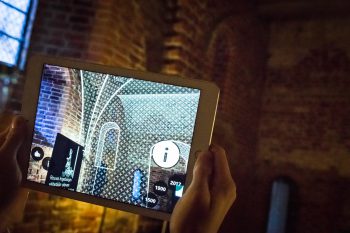 According to research the Knights' Hall has assumed several different roles during its history: the residence of the head of the castle was there in the late medieval times, then around 18th century it has been used as a granary when the whole castle was decayed into a mere depot, and in the 19th and 20th centuries the castle acted as a prison. After 1950s the prison period ended and the castle was renovated. The hall got its present appearance, where remains of some of the old structures can still be seen.
The application runs on a tablet computer and displays old building structures as augmented reality within the current hall. The user sees the hall through the device's camera on which the virtual structures are added upon. When one switches between a medieval view (year 1500), prison time view (year 1900) and the current appearance of the hall, the different structural elements become visible. The user can also find information about the structures and the different uses of the space. Pictures from different historical periods are included, too.
In historical environments such as the Häme Castle, where the environment must the preserved and remain intact, it is essential to utilise markerless methods for locating the device within the environment. This approach enables exact positioning of the virtual elements without adding any visible markers inside the hall. Such camera tracking technology for the application is provided by the VTT ALVAR software library. The mobile application itself is developed within the University of Turku using the Unity3D game engine.
Transformations of the Knights' Hall was made as a pilot application in the MIRACLE project.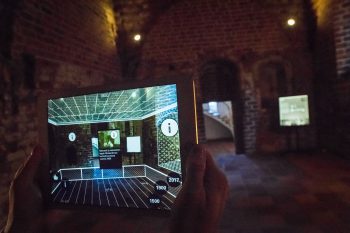 Press material
Ask more