Turku is often regarded as the Capital of Science and Culture of Finland.
Turku is Finland's oldest city and one of the oldest in the entire Nordic region. The year 1229 was of great significance to the city. It was during this year that the seat of the Archbishop of Finland moved to Turku and it became the religious centre as well as an important town of commerce.
Turku is also the cradle of Finnish culture; over the years the city has played an important role as the gateway to Finland for international influence. The unrivaled range of museums in Turku introduce guests to a host of national treasures.
A special summertime feature of Turku are the restaurant boats moored along the River Aura. Here the locals come to start their evening before heading to the city centre clubs and night spots.
See more about the city in the City Brochure.
Travelling to Turku
Turku has an international airport and it is easy to reach by air via Helsinki, Stockholm, Riga or Gdansk. If you fly to Helsinki, from Helsinki-Vantaa airport there is a shuttle bus to Turku (2.5 hours, departures eve-ry hour). From Stockholm you may choose to travel to Turku on a ferry through one of the most beautiful archi-pelagos in the world. Daily connections between Stockholm and Turku are operated by Tallink Silja and Viking Line. The ferry takes about 10 hrs.
For more information about Turku and travel connections, please see the Visit Turku website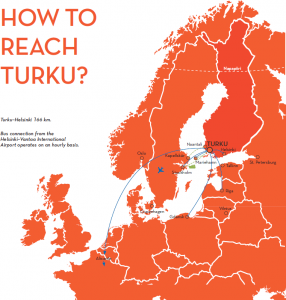 Airlines
Ferryboat connections from Stockholm
Other connections
Taxi
Tel. +358 2 10041
Taxis are generally easy to get. There are several taxi stands in the city centre, one on the market square. For a taxi ride from Turku Airport to the city centre you may expect a fare between 25-35 euros. After 8 p.m. there is a small additional charge.